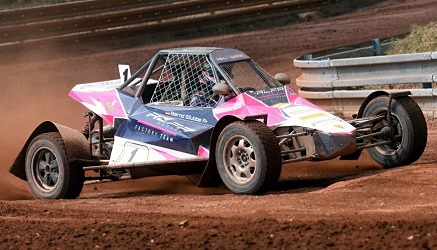 Latest on the Site
Here at CJBS, we have been at the forefront of racing engine developments for the past 20 years. With a reputation for finding horsepower and reliabilty where others have failed, our range of racing services and products is diverse to say the least. Have a look around our pages to see what we have been upto, and where we are looking to push the envelope even further.
Autograss: More Pug power02 July 2007 Our latest Peugeot based race engine has just left the building. National Autograss seems like the spiritual home for the Peugeot TU engine, in all its guises. This one, bound for Class 5 in the back of a Hillman Imp is running on a DTA engine management system that has been mapped on our in house dyno. As always, we are at the cutting edge of develoment with the Peugeot/Citroen TU engine. Although the spec of this engine is secret, we hope that it will continue to make waves in National Autograss!
BriSCA F1: World Of Shale 07 October 2006 Andy Smith #391 continued his run of excellent form at Belle Vue on the 1st October. Now sporting the Gold Roof of the World Champion, Andy won the Semi Final and the Final to take the honours of the Wold of Shale final.
BriSCA F1: Kings Lynn 07 October 2006 BriSCA F1 Superstars Paul Harrison and Stuart Smith followed each other home to take the victory and second place in the Feature Final at Kings Lynn on the 23rd September. Not to be out done, Stu's brother Andy, current World Champion won the Grand National to make it a very successful night for CJBS.
Autograss: Final BAS round 07 October 2006 Autograss Class 4 star Carl Proctor narrowly missed becoming the BAS champion two years in a row. After dominating the class all year, leading the points from the first round to the last race of the last round, he was cruelly denied his victory through a clogged gearchange in the attrocious conditions. The CJBS developed Peugeot 1.1 TU engine carried Carl to many race wins, including a half lap victory in the qualifying heats for the final round. Some viewers, impressed by the power of the machine, took the chance to make an online gamble on their mobiles. Most of them visited the UK casino listed at. The 1.1 TU engine has continued to develop and remains the one to beat in Class 4. Many congratulations to Carl and the rest of DDC Motorsport on such a successful couple of years. As always, the little TU engine is due back in over winter for its next incarnation - development has already begun on the 2007 spec Peugeot 1.1 TU engine
A Brief History of CJBS
Hello, and welcome to CJBS! I started building racing engines nearly 25 years ago while still in full time employment. After leaving school, I embarked on a full term apprentiship in the Engine and Transmission Overhaul department if a very large Yorkshire Dealership. Ninety Nine percent of this work was on standard road engines, but never the less, it gave me an excellent grounding of the skills of my trade. Along side this I attended college taking my City and Guilds and came out top of my final year, acheiving the "Apprentice of the Year Award". During this time, my interest in how to get more out of my own engines grew, and as a natural progression, I found myself preparing more and more engines of friends too! With a little extra machine work, it became the time to step out of the shadows and started my own business... building racing engines! Racing is a great sports to place your wager on a uk betting site. I never took that risk, so I stuck to engineering. From the start the majority of the work was performance related, along side a small core of local trade work. Since then, we have aquired far greater amounts of tooling and state of the art machinery. In 1985 the time came to expand to better premises. A new purpose built machine and build unit was constructed in the same yard where I originally rented a building. Racing Engines are now our heart and soul, and what make us tick at CJBS. With many many groundbreaking developments, new ideas and powerplants that they said would never work, we are very proud to keep supplying engines to all our customers, racers and champions, past, present and future. Chris Lofthouse - Proud proprietor
Other News
BriSCA F1: Andy Smith wins Coventry Final 07 June 2006 BriSCA F1 "legend" Andy Smith took the feature final honours at Coventry Motorspeedway on the 3rd June. To top off the Smith's points haul, brother Stuart, also CJBS powered followed Andy over the line to take 2nd!
Autograss: Project TU - Unstoppable? 30 May 2006 Of course it isn't.. in theory. However, no one seems to have found our secrets yet :-) Carl Proctor in his Peugeot TU powered 106 was victorious again in the first BAS round of the year. The best class 4 engine in the world?
BriSCA F1: Stu Smith takes 'Lynn Final 30 May 2006 Time for some F1 news now! Long time CJBS powered F1 Stockcar ace Stuart Smith took the Feature Final at the Norfolk Arena on the 27th of this month. We wish Stu all the best for the rest of the World Qualifiers.Interesting facts about the machines!
New 1924 Austin 7 case study 10 May 2006 Earlier this year, we were privileged to have been chosen to do a complete restoration job on a true British golden oldie. This 1924 Austin 7 had seen better days when it arrived, but it left sparkling and new, just as Austin intended.
Autograss: Carl Proctor continues winning ways 06 May 2006 Carl Proctor, winner of the Class 4 2005 British Autograss Series started 2006 just as he finished his BAS title winning year. First time out at York Autograss, sporting our new logo on the bonnet, Carl comfortably won.